Ukunda and Wema Update
Thursday, February 10, 2011
Here is an update from a Project 24 and 1001 Orphans.

The Ukanda Project 24 site is pictured here. This site should be fully operational by April 2011. Currently, a few children are living here.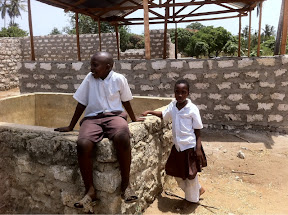 Project 24 focuses on bricks and mortar, building the rescue centers. It is a partnership with LCMS.

Pastor Jamison Hardy and Jim Wolf from Concordia Lutheran Ministries, sponsors of 1001 Orphans stand near a well funded in part by CLM people.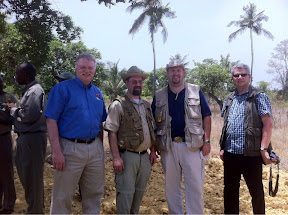 After visiting Ukanda, we went to Wema station where 21 children, who are sponsored by 1001 Orphans stay.

The Wema station is within 10 miles of the Indian Ocean near Mombasa. The area has a high Muslim population. One of the pastors who serves in this area had been born a Moslem and after he converted to Christianity suffered repeated beatings and nearly died. Now he serves as a Lutheran pastor.

On the Wena compound is a Lutheran church that the children attend. Pictured on the calk board is the Ten Commandments. Bernie Seter, chair of the Board for International Mission, stands with Evangelist Emmanuel.

The pulpit at the church in Wema.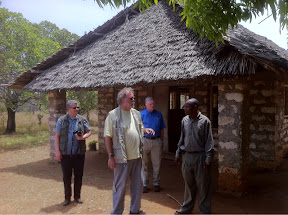 District Presidents Jim Baneck and Don Fondow stand with Bernie Seter and Emmanuel.

View out of the church's front door. There is no electricity or running water. Water is manually pumped and carried up the hill. The generator that powered the pump has broken so the small plot cannot be irrigated for the crops.

A small chicken coop also sits on the site. The rooster seemed alarmed that I would approach the coop.
Now we are off to the airport to travel to Eldoret located in the northwestern part of Kenya.
Will update as the Internet is available.
Rev. Albert B Collver, Ph.D.
LCMS Director of Church Relations – Assistant to the President
| | | |
| --- | --- | --- |
| | Print article | This entry was posted by Al Collver on February 10, 2011 at 4:15 pm, and is filed under Al's Posts. Follow any responses to this post through RSS 2.0. Both comments and pings are currently closed. |
about 8 years ago - Comments Off on Evangelical Lutheran Church in Kenya Dioceses
Map Showing Location of ELCK Parishes In the video below Archbishop Walter Obare explains the start of the Evangelical Lutheran Church in Kenya,  and provides information about the location of the dioceses, parishes and congregations. It is a good primer on the ELCK. About the ELCK The ELCK began in Kisii in 1948 with the…
Comments are closed.