Udom Chepareria Rescue Center
The Udom Chepareria Rescue Center is a partnership between the ELCK and the LCMS, including 1001 Orphans, Project 24, LCMS WR-HC, and Concordia Lutheran Ministries. Currently, the center has about 62 children in the program with the capacity for 30 more children. This center is located about 2 1/2 hours away from Eldoret.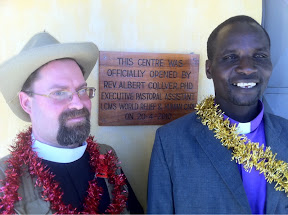 Collver with Bishop William Lopeta, Bishop of the Northwest Diocese.

Unfortunately, I did not make the dedication in April due to the volcano in Iceland.

Evangelist Wilson said that it is the task of Christ's church to care for the entire person, both the body and the soul. This rescue center takes care of the material needs of the body, food and shelter, and Christian education consisting of the Bible and Small Catechism along with church attendance.

A church that will hold about 800 people is being constructed on the site of the center.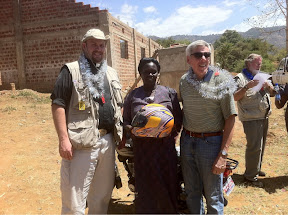 Concordia Lutheran Ministries donated motor bikes to the deaconesses so that they can visit the children more easily.

Deaconess Grace (pictured here) travels more than 200 kilometers to see the children assigned to her. The motor bike will make her job much easier as she no longer has to rely on public transportation.

The deaconess symbol for the ELCK has the Luther Rose on it.

Districts President Fondow and James Baneck are pictured with Bishop Lopeta and Archbishop Obare.
I hope to post more about the Udom Chepareria Rescue Center with video later once a faster Internet connection can be found.
Rev. Albert B Collver, Ph.D.
LCMS Director of Church Relations – Assistant to the President
| | | |
| --- | --- | --- |
| | Print article | This entry was posted by Al Collver on February 11, 2011 at 8:50 am, and is filed under Al's Posts. Follow any responses to this post through RSS 2.0. Both comments and pings are currently closed. |
about 8 years ago - Comments Off on Evangelical Lutheran Church in Kenya Dioceses
Map Showing Location of ELCK Parishes In the video below Archbishop Walter Obare explains the start of the Evangelical Lutheran Church in Kenya,  and provides information about the location of the dioceses, parishes and congregations. It is a good primer on the ELCK. About the ELCK The ELCK began in Kisii in 1948 with the…
Comments are closed.